---
THE EDIBLE PLANT
COLLECTION
---
JOY GREGORY
Invisible Life Force of Plants
"In the eighteenth century, epic scientific voyages were sponsored by European imperial powers to explore the natural riches of the New World, and uncover the botanical secrets of its people. Bio-prospectors brought back medicines, luxuries, and staples for their king and country."
Londa L Schiebing
---
Sage [06092020]
2020, Unique Lumen Print [Silver Gelatin (RC)]
127x178mm

Origin:
South-eastern Europe (Albania and Bosnia).

Sage (Salvia) is both a food and medicine. Fresh or dried, sage is a rich source of the minerals potassium, zinc, calcium, iron, manganese, copper, and magnesium. It has been used in traditional medicine for the relief of pain, protecting the body against oxidative stress, free radical damages, angiogenesis, inflammation, bacterial and virus infection.

Studies suggest that Salvia species might provide new natural treatments for the relief or cure of serious and life-threatening diseases such as depression, dementia, diabetes, lupus, heart disease, and cancer. It is thought to improve the memory and cognition, and with increasing dosage, the mood gets elevated.

---
Brassica Oleracea (broccoli)
2020, Cyanotype
594x841mm

Origin: Western Europe

The dietary intake of Brassica vegetables have been shown in studies to reduce the risks of atherosclerosis in which the arteries are clogged by the deposits of fatty material. Recent research has demonstrated clear health benefits to humans from eating Brassicas in protecting us against common cancers and cardiovascular disease.

Broccoli is rich in Vitamin C, beta-carotene and fibre. It is also loaded with good amount of calcium, magnesium and potassium as well as folate, fibre, zinc, sodium, copper and omega-3 fatty acids.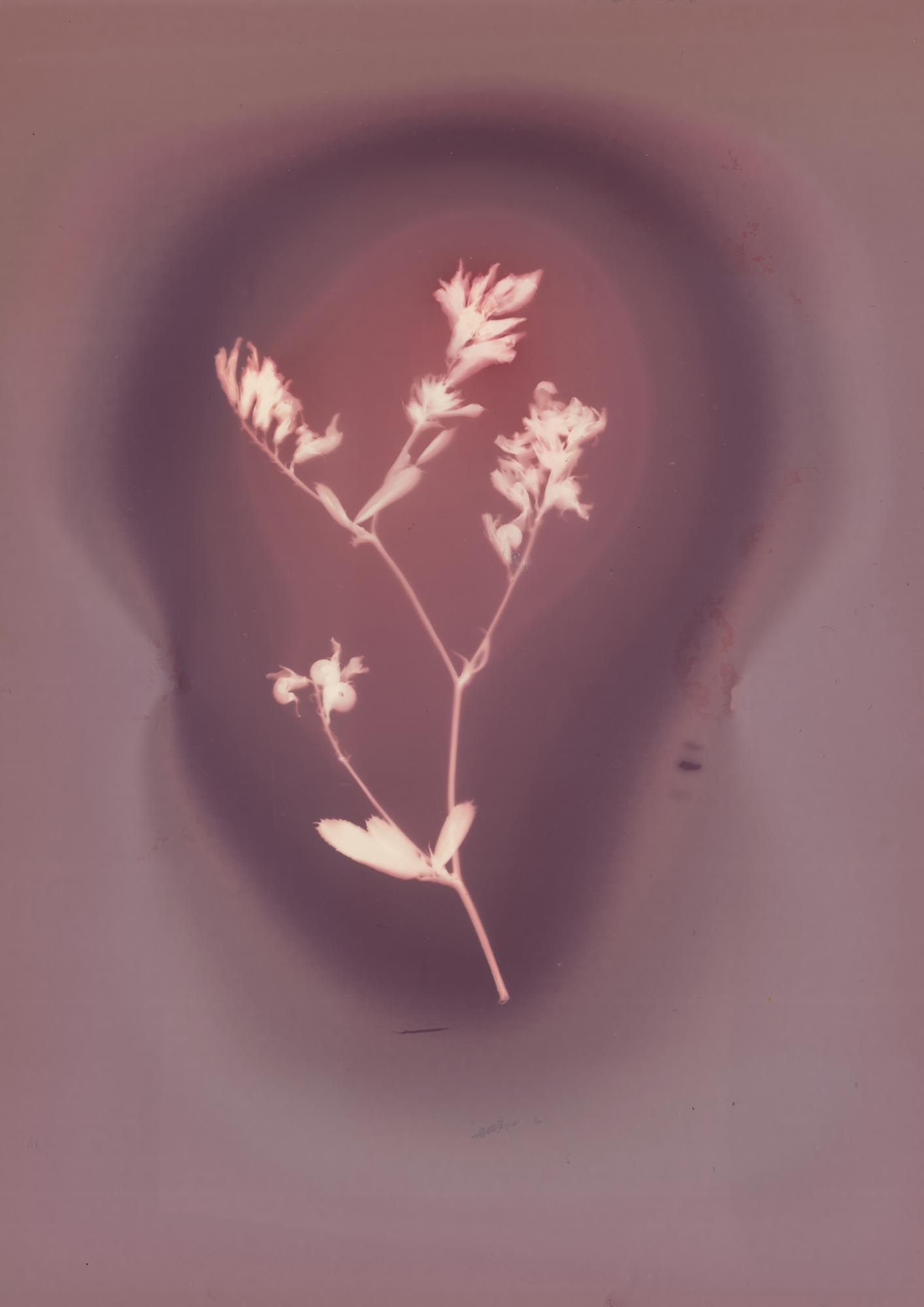 ---
Alfalfa [27072020]
2020, Unique Lumen Print [Silver Gelatin (RC)]
127x178mm

Origin:
Iran

Alfalfa has long been prized for its superior content of vitamins, minerals and proteins. It is high in vitamin K and contains vitamin C, copper, manganese and folate.

The leaves have high concentrations of flavonoids and other phenols. It is a potent antioxidant acing as a free radical 'scavenger' and inhibitors of nitric oxide release. The list of proposed medicinal uses of alfalfa range from the treatment of arthritis to upset stomach.

---
Lycopersicon Esculentum (Tomato)
2020, Cyanotype
594x841mm

Origin:
Andes (Peru, Bolivia, Chile and Ecuador), South America.

The tomato belongs to Solanaceae or nightshade family of common vegetables, which includes chilli peppers, potato and eggplant. Fresh tomato is rich in potassium, an important component of cell and body fluids which helps to control heart rate and blood pressure caused by sodium. Lycopene, the bright red carotenoid hydrocarbon found in tomatoes has also been shown to have a very beneficial effect upon the prostate and is being used increasingly to treat enlarged prostate and the difficulties in urination that accompany this disorder.

---
Chamomile [06092020]
2020, Unique Lumen Print [Silver Gelatin (RC)]
127x178mm

Origin:
Southern and eastern Europe.

For centuries chamomile has been used as an anti-inflammatory, antioxidant and mild astringent. As a traditional medicine it is used to treat wounds, ulcers, eczema, gout, skin irritations, bruises, burns, canker sores, neuralgia, sciatica, rheumatic pain, haemorrhoids, mastitis and other ailments. It can be used to calm irritated skin, as a facial spritzer, cleanser and toner and as a room spray.

Chamomile is particularly useful as a remedy for various problems of the digestive system as a calming, relaxing tea. It has been frequently used as a mild sedative to calm nerves and reduce anxiety, to treat hysteria, nightmares, insomnia and other sleep problems and various gastrointestinal disturbances.



---
Clover [21082020]
2020, Unique Lumen Print [Silver Gelatin (RC)]
127x178mm

Origin:
Native to Europe, including the British Isles, and central Asia.

The leaves, stems, flowers, and seed pods of the plant are edible being rich in protein minerals and soluble carbohydrates. The red clover flowers contain calcium, chromium, magnesium, niacin, phosphorus, potassium, thiamine, and vitamin C.

The plant is anti-rheumatic, depurative, detergent and tonic. An infusion of the plant has been used in the treatment of coughs, colds, fevers and leucorrhoea, with the flowers prepared as an eyewash.


---
Eruca Vesicaria (Rocket)
2020, Cyanotype
594x841mm

Origin: Mediterranean region and western Asia to Afghanistan

Rocket is an excellent vegetable source of many minerals that play a key role in regulating the metabolism as well as helping to build and maintain healthy bones. It is high in beta-carotene, vitamin C, folate, vitamin K, magnesium and potassium.

Two handfuls of rocket will provide 50% of vitamin K and 8% each of vitamin C, folate, and calcium as well as 20% of the body's daily vitamin A needs. Its antioxidant properties can help remove damaged cells from your body, helping to protect you from cancer and other diseases.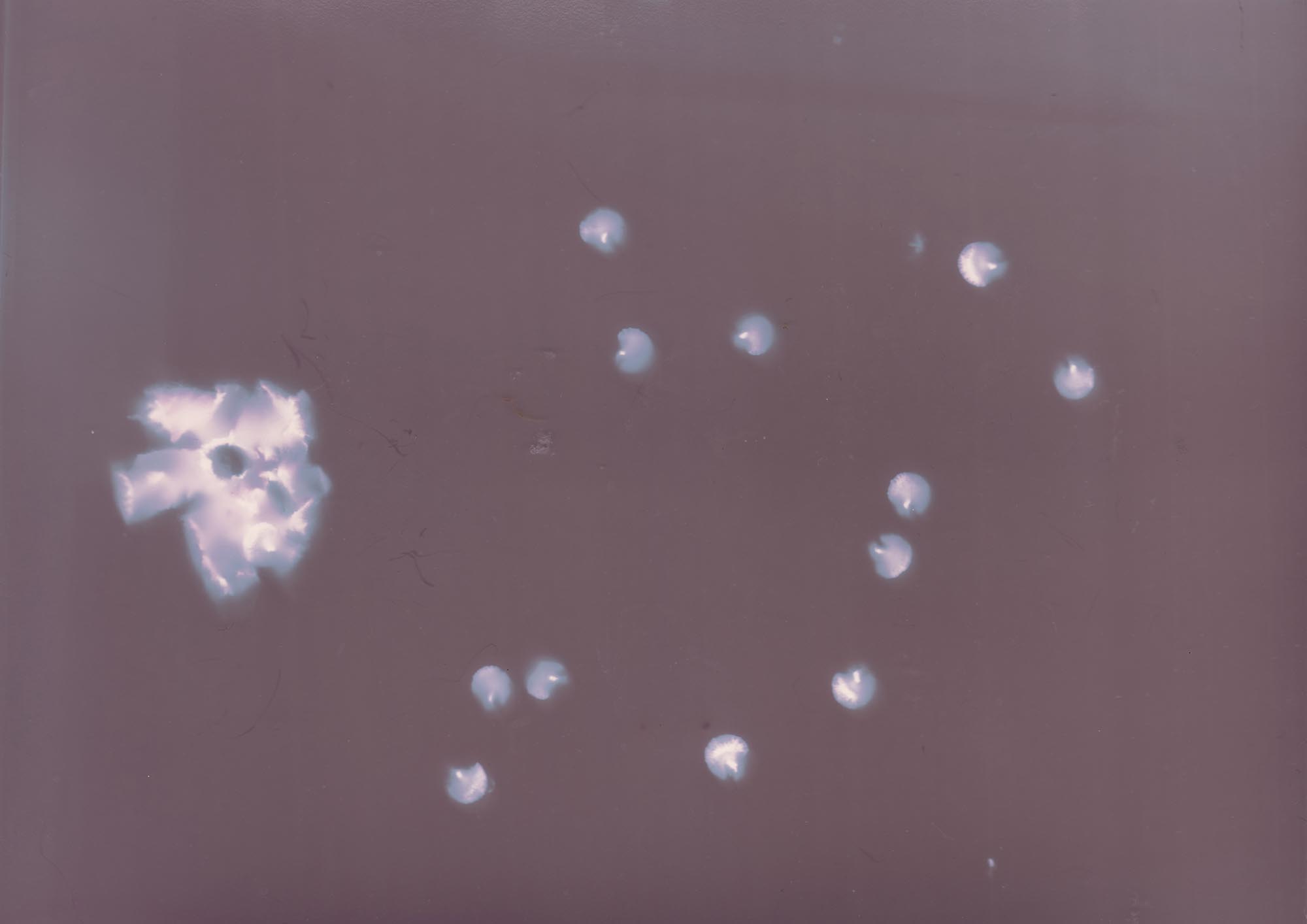 ---
Hollyhock [21082020]
2020, Unique Lumen Print [Silver Gelatin (RC)]
127x178mm

Origin:
East Asia, including Japan

Hollyhock is a popular flower in many cottage gardens and is completely edible – leaves, roots, flowers. The leaves can be used as spinach and the flowers in salads. The hollyhock flower prepared as a medicinal tea has been used to prevent and treat breathing disorders and problems of the digestive tract. The plant is sometimes applied directly to the skin to ulcers and painful swelling.

---
Daucus carota (Carrot)
2020, Cyanotype
594x841mm

Origin:
Persia and Asia Minor.
During Arab expansion post the tenth century CE, the roots were brought to Andalusia, Spain and from there they spread to the rest of Europe.

Carrots are a particularly good source of beta carotene, fibre, vitamin K1, potassium, and antioxidants. They have been linked to lower cholesterol levels and improved eye health. The high levels of beta-carotene may prevent certain types of cancer and apparently are more effective when eaten whole.